Avoid costly mistakes in innovating and development stage of manufacturing due of design flaws

3D Street® is a registered trademark of MMG Innovative Engineering, an ISO 9001:2015 certified company, with a vision to provide quality-centric engineering solutions to our clients, and helping them avoid costly mistakes in innovating and development stage of manufacturing.
We're a forward-thinking, fast paced company with various quality management processes imbibed in our workflow, to deliver out-of-the-box and value-driven experience to our clients. 3D Street® aims to be one of the forerunners and great innovators in the product development and 3D printing industry across the orbit. We own well-equipped infrastructure, along with world-class 3D printers of extensive ranges and materials, as well as software. We also endeavor to penetrate global market with our business presence and clients all over the world.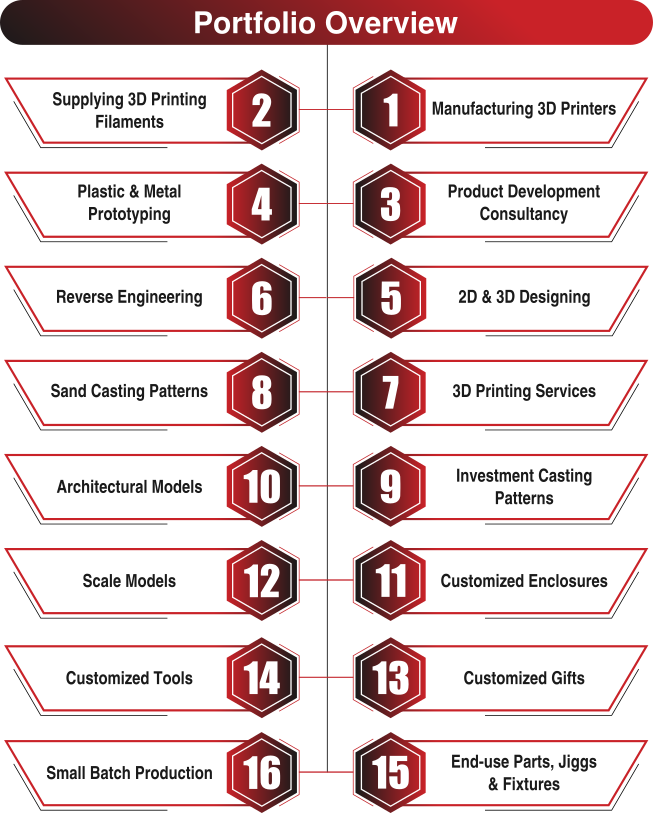 3D Street® is a pioneering venture in 3D printing technology founded by the three young and self-motivated techno-commercial founders. We possess vast managerial experience and knowledge in manufacturing & engineering processes. We, along with our dedicated team, offer top-notch solutions to simplify the prototyping test, design process, as well as functional verification in 3D printing arena. Apart from that, we are also pro at delivering end-user parts in production level with industrial grade, cost-effective, and top quality 3D printers.
Integrate additive manufacturing process in your workflow, and stay ahead of the competition
We generate value for your business in the following ways:
Save time and money by avoiding rework of molds, dies and patterns,

Get feedback from customers and review the design BEFORE mass production,

Try out multiple designs for an application to identify the most suitable and cost effective design for mass production,

Iterate and review designs multiple times, in just a matter of hours,

Innovate and develop products without the constraint of time, money and other resources.
Our user-friendly and top quality 3D printing products/services are offered at reasonable prices to help our clients to take their business efficiency to the next level. At 3D Street®, we have our state-of-the-art workshop, to deliver 3D printing solutions to our clients as per their detailed specifications. With the broadest range of industrial-grade printers, we strive to meet the diverse requirements of customers within predefined time and without compromising quality. The consistent Research & Development on 3D printing applications has greatly fostered us to deliver 3D services by exceeding our customers' expectations.
Eventually, we empower our customers to move towards a digital manufacturing process and to instigate innovations that have the power to transform the faces of their industries without end.
If you are looking to engage a premier 3D printing solutions & product development consultancy company for any engineering needs, we are the right choice for you. To get in touch, you can email us at info@3dstreet.in or call us on +91 97377 26725.
Quality Printing
Our experienced designers and 3D printing professionals combine to provide you highest quality products.
Clear-cut Accuracy
We understand the importance of accuracy when you're experimenting with ideas, and assure you of providing highly accurate products.
Timely Delivery
We will deliver your product/s within the shortest possible time span, straight through your fingertips to your doorsteps.
Hassle Free Experience
Our team works relentlessly behind the scenes to deliver only the best and hassle free experience to you.
Environment Friendly
We are nature lovers and so are all our products. Zero percent wastage is guaranteed in our manufacturing process.
Privacy & Confidentiality
We understand the value of your intellectual property, and hence we take all the measures to keep your designs confidential.
Everyone is
a maker, No Exception
Hours of printing & delivering products.
of beloved and satisfied customers.
---
It's dedication to innovation through experience.
Pushing the boundaries of designing & engineering.
Social and environmental consciousness everyday.
Everything we create is designed with you in mind.