One of the problems with 3D printing is getting a hold of things to print. You can of course download pre-made objects from a variety of places like Thingiverse; but if you want something unique and made by you, that's where things get a little difficult. Here are 9 quick and easy apps for making something a little more unique.
TinkerCad
This is a superb web app for creating complex 3D shapes by combining basic ones. The app makes things simple by using a 'work plane', which can be repositioned to any face in the object.
It may not have all the bells and whistles of a full desktop modelling app, but it does allow even the most novice user to create incredible structures – and the walkthrough tutorial is very comprehensive.
In short, if you want to add something onto the side of something you've already made, you would drag the work plane to that side first, then you could drag something from the library onto it to snap into place. The same principles for adding material work for subtracting – just turn the object into a 'hole' instead of a solid color. It really is incredibly simple to use, and I'd encourage you to go check it out now even if you don't have a 3D printer.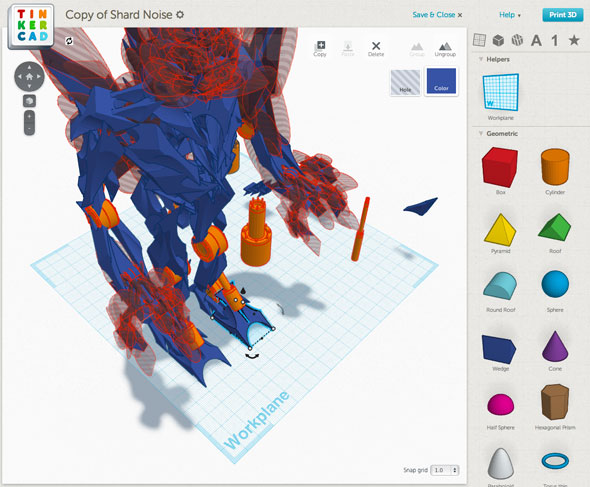 There is also the obligatory shared user creations directory, and you can export your objects to the Thingiverse or download as .STL file ready for printing.
Link: https://tinkercad.com/
Autodesk 123D Catch and Sculpt (iPad and Windows)
I did a full review of both Sculpt and Catch last week, but a few updates make them worth mentioning again. Sculpt has now added a premium option, allowing you to export OBJ files so you can print your monstrous creations. Catch has also been released as an iPad app (2nd or 3rd generation, US app store only at the moment), making the process of capturing images and creating stunning 3D scenes from those images alone quite ridiculously easy.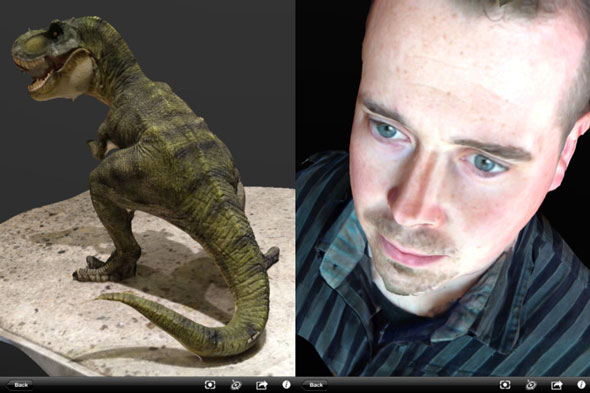 The whole suite of free Autodesk 123D apps also now has access to cloud storage for improved interoperability between different apps, as well as the ability to share and adapt other creations.
Spaceship Creator from ShapeWright
If you're in need of some random space ships for epic space battle type war games, ShapeWright has you covered. It's a random ship generator, so it can either start from a name, or just use it's own internal random number generator. The results are impressive, and very pretty much what I imagine space ships to look like. Here's the Andromeda – you can build the exact same one by typing it into the site.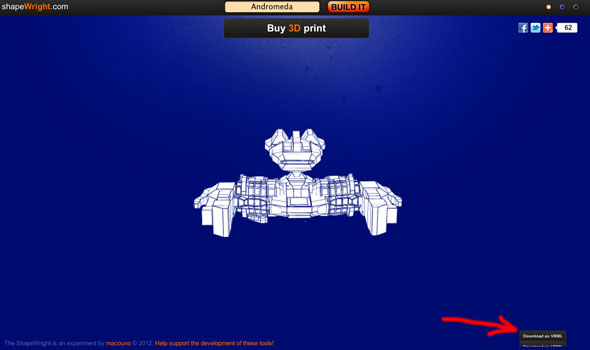 Outputs can be either ordered online, or you can download a VRML file ready for 3D printing. Note, the download button is tiny and hidden in the bottom right – it uses Flash, so you'll need to ensure you've got an exception set if you routinely block Flash (something you should definitely be doing, by the way). From the ShapeWright homepage, you can also find a basic ring making tool, which presumably you could then customize further with desktop 3D software.
Link: http://ship.shapewright.com/
5 Apps from Cubify
I talked about Cubify last week – the first truly consumer level 3D printer priced $1299 that works with custom filament cartridges. As part of their making it simple for consumers, they've got 5 simple 3D object making apps.
Link: http://cubify.com/apps/
The Royalizer: Make your own princess crown 
Perhaps the most useful of them all, aspiring queens and little princesses will love making a little a custom crown and printing it in garish pink. Scale up for adult size!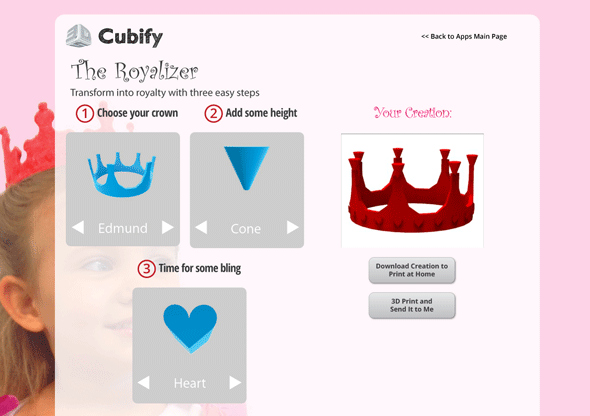 The Microforge: Lego Sword Maker
In contrast to many long-running toy businesses, Lego has really embraced the digital era with their digital creation tools. Now you can begin to print your own equipment for your Lego guys with this unofficial sword maker. Options are limited to the blade and hilt, but by my calculations there are still 48 different sword designs you can make with this app, and that's enough to make a veritable army of mismatched bandits.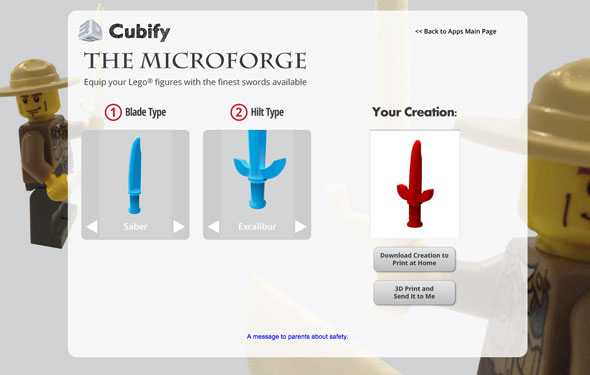 Space Invaders Maker and Earth Defence Force Rocket Maker
If you've ever wanted to decorate your living room with 3d printing space invaders, I think I've found the app for you! Make your own invaders, then battle them with the delightfully complex rocket maker. Battle sounds not included, pew pew! Aliens are simple, so they only get basic creation tools. The rocket is far more advanced.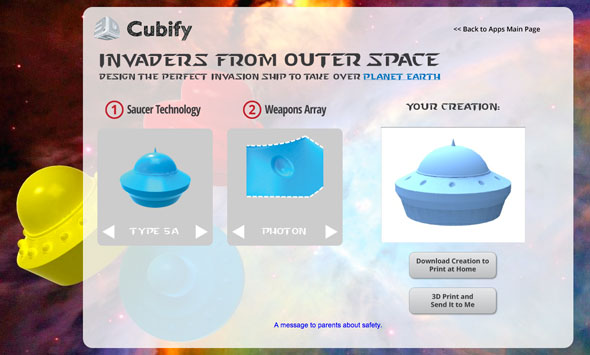 3D Licence Maker
You're going to need a license to drive all these spaceships you're making, and for that you'll need this 3D license creator. Choose your license type, enter your name, and away you go. Okay, not particular cool for grown-ups and unlikely to be an lawful excuse as to why you felt piloting that aeroplane was okay, but I'm sure the kids will love it (while you're playing real life space invaders).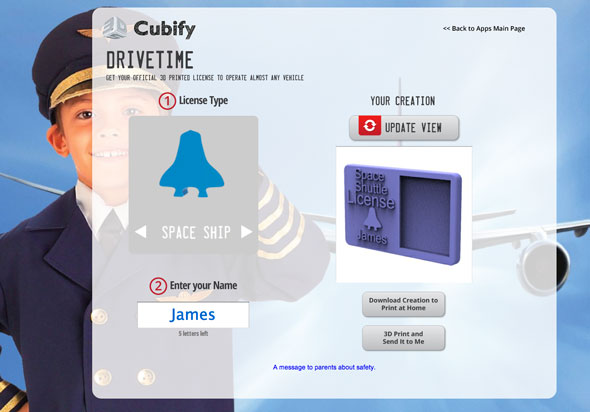 Do you know of any more quick and easy apps to make printable 3D objects? Let us know in the comments, for fame and glory and our eternal gratitude!
Do you know that we offer 3d printing products & services @ your fingertips at unbelievable rates? Get in touch with us now for a free instant quote or just consultation! 
This article originally appeared HERE.